My mom wanted to be cremated, and have her ashes spread out in the San Juan Islands. We honored her wishes, and held her memorial service two weeks after she died. This gave us ample opportunity to plan something that really did honor her.
My dad, my sister and I all wanted to speak at her memorial. I knew it would be hard, and I knew that if I didn't write down every word I wanted to say, it wouldn't come out right, or I'd miss something. So I set myself to the task of writing the eulogy. It turns out, writing a eulogy is a really wonderful way to help with the healing process.

Below is my speech.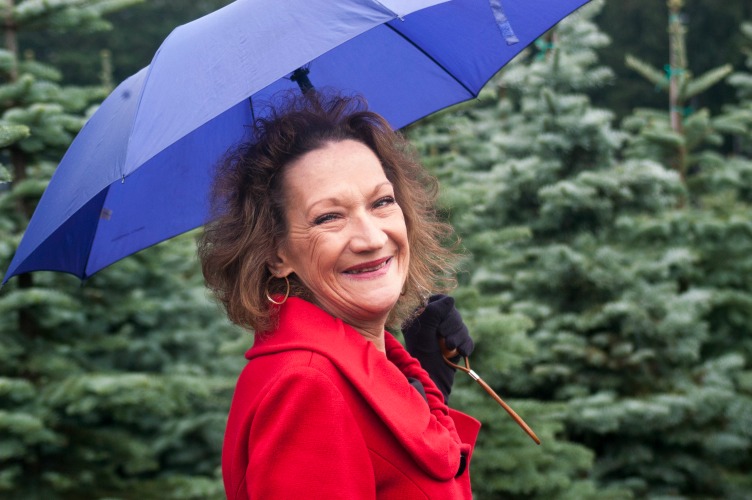 A wise man once said, "it's not the years in your life that count, but the life in your years," and Sharon O'Malley proves that truer words have never been spoken. (Here, I misspoke, and accidentally said "smokin" instead of "spoken" which was funny because a) my mom was a smoker, and b) both speeches that preceded mine mentioned something about her smoking.)
My mom had a small frame, but what she lacked in size she made up for in personality. She had such a large presence. She spoke with her hands, punctuating her sentences by pointing her – always well-manicured – finger in the direction of the person she wanted to convince. She always had an opinion, and she wasn't shy about sharing it. Her strength of character helped her advance her career and raise my sister and me to be women with very strong senses of self.
My mom was the very definition of a southern lady. She didn't consider herself dressed until she had on all her jewelry, and there was always plenty to wear. She never did get into the fad of wearing jeans, so she always dressed a little fancier than everyone else in Olympia. This of course never bothered her, since she didn't believe that she could ever be overdressed, and she got a lot of joy out of having a perfectly coordinated outfit. She made sure her shoes matched her shirt, always. And her fingernail polish always matched her toenail polish. She looked ready to be photographed every time she left the house.
Take a look at this picture. If you'll notice, she is dressed to the nines. A fantastic red coat, a pretty umbrella, a put together face – she looks glamorous, right? Well, we're at a Christmas tree farm. You know, the kinds of places you're supposed to go to wearing old sweats and chop down your own tree? Well, not this woman. Nope, she always looked amazing.
Mom's nickname around our house was OAO, which stands for "oh anal one" – she had a very specific way of doing just about everything and would become very fussy when things didn't go the way she expected them to.
Mom loved food. Her favorite food group was dairy, and one of her famous phrases was, "there's no such thing as too much butter." It was fascinating to see just how much butter this one tiny woman could put on a biscuit. Her freezer always had at least ten pounds of butter. The mere thought of running out of butter would send her running to the store to buy a few more pounds, just in case.
She loved cheese, too. In fact, if you went to her house at any given time and opened her refrigerator, you would see not one, but two drawers filled with different kinds of cheese. I would guess she had over forty different varieties of cheese at any given point, and she couldn't stop buying more.
Mom loved watching the Food Network, she loved reading food magazines, and she adored cooking delicious food for her family. So, naturally, Thanksgiving was her favorite holiday, and one year, she decided to make the meal extra special by ordering a fresh turkey from Western Meats. You know, one of those that get killed the week of Thanksgiving? Well, when she went to pick up the turkey the day before Thanksgiving, she was absolutely LIVID when she found out that the turkey was, in fact, frozen. She gave them an earful and never forgave them. I don't think she ever spent another dollar in that store, and ever since then, we were always able to get her riled up and feisty simply by saying the words "frozen turkey from Western Meats" in her presence.
When I was growing up, Mom went out of her way to show me the beauty of simple things. One of her favorite seasons in the Northwest was spring. Every year, when she first saw the tips of crocuses poking through the cold ground, she would call out, "Look! The world is waking up!". She was so excited every year when she saw the end of the cold weather and the beginning of flower season.
She even knew how to make the most out of the wet, dreary, Olympia weather. We'd be out running errands when it was raining, and as soon as the sun peaked out, she would say, "okay, girls, we're on a rainbow alert. Keep your eyes open for rainbows!" and when we'd find one, she would pull over just so we could see how the rain brought such pretty things, if only we would stop and look for them. I remember calling her once years later and telling her I'd seen a rainbow. "OH pretty!" she said, excited for me. "Can you send me a picture?"
Mom was always so fun to be around. She loved to tell stories, she loved to snuggle with her animals, and she was so vibrant.
She was, and remains, my role model. I subscribe to her particular brand of feminism, which says that little girls can grow up to be whatever they want to be in life. She showed how important it was to remain aware of current events, and always, always vote in every election. She showed that one could be both truly feminine and truly feminist without contradiction. She demonstrated the importance of standing strong, and loving well.
If you'd like to honor the memory of Sharon O'Malley, here's what you can do. Think of her when you see a rainbow. Or when you see the first spring flowers poking through the ground. Or when you find yourself compelled to buy three different kinds of cheese in one grocery trip. Or when you put a little extra butter on something.
So, thanks, Mom, for always being awesome. Thanks for leading by example and acting with integrity, love and generosity. Thanks for instilling in me a strong sense of self. Thanks for teaching me manners. Thanks for teaching me to be curious. Thanks for all the cooking magazines.
Death is nothing at all
Death is nothing at all
I have only slipped away into the next room
I am I and you are you
Whatever we were to each other
That we are still
Call me by my own familiar name
Speak to me in the easy way you always used
Put no difference into your tone
Wear no forced air of solemnity or sorrow
Laugh as we always laughed
At the little jokes we always enjoyed together
Play, smile, think of me, pray for me
Let my name be ever the household word that it always was
Let it be spoken without effort
Without the ghost of a shadow in it
Life means all that it ever was
There is absolute unbroken continuity
What is death but a negligible accident?
Why should I be out of mind
Because I am out of sight?
I am waiting for you for an interval
Somewhere very near
Just around the corner
All is well.
Nothing is past; nothing is lost
One brief moment and all will be as it was before
How we shall laugh at the trouble of parting when we meet again!
Canon Henry Scott-Holland, Canon of St Paul's Cathedral (1847 – 1918)