Attention: affiliate links are below. That means if you click my link, I earn a little money, but it doesn't cost you anything. Cheers!
A few weeks ago, I was offered the opportunity to check out a site called Wantable.
It's a very fun premise. You fill out a survey, and they send you the items they think you want, based on those results.
I do love surveys (especially when I get to voice my opinion on things that are quite silly)! So, I filled it out. Did I want makeup or accessories? Oh, tough call. Let's go accessories, since I only wear the same four pieces of makeup every day, and don't see myself changing those habits anytime soon.
Several questions later (including a picture "this or that?" fun thing) I was all set and ready to go.
Then, a few days after that, they sent me my box. I was in a rush, and pulled out one of the first items.
I'll be honest. I hated it.
It was a necklace in the shape of a bow. "What the heck, I'll try this out," I thought, and headed out to a party.
The next day, I thought I'd wear it again, since I didn't hear feedback one way or the other. As an aside, people only compliment you when they like something you're wearing. No one ever teases you about something that looks a little out of character.

I put the necklace away, and went on with my weekend.
Then, I decided to clean my condo, which included taking that box out to recycle. To my surprise (and delight!) there were more things in the box that I hadn't noticed!
I pulled out  cute scarf, a sparkly ring, and best of all, a flowery pair of sunglasses (which I'm currently making my male friends wear — collage coming at the end of summer).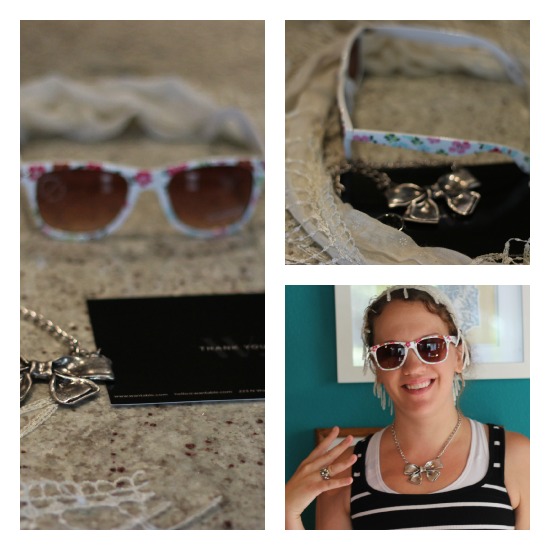 Wantable was redeemed! Hooray!
Here are the details. Wantable is either a one-time purchase of $40 or a $36 monthly subscription. It is a fantastic value for that price. I can't say you'll love everything, but I think you'll love many of the surprise items in the box.
I definitely see its appeal. It' like having a cool younger sister to help you look hip, even when you are decidedly unhip. Or so I've heard. I don't know anything about being unhip. See above photo where I have no idea how to wear a cute scarf.
Is Wantable worth it?
My answer is yes, absolutely. I'm a minimalist, so I don't think I could keep up with their accessories each and every month, but I could very easily be convinced to update my look every once in a while. Plus, my answers to the style quiz change with the wind, so I'd want to do that part every time.
It's definitely a treat for yourself, since you can't really answer the questions for your friends (or, heaven forbid, your daughter).
Have you tried something like this?