"If you want your blog to be a business someday, treat it like a business today." –Darren Rowse
"Company culture is derived from an entrepreneur's set of values, so if you're a business of one, you need to have and adhere to your values." – Robert Richman
"Who are you? What Do you Want? What's the First Step?" –Don Miller
"Listen to your True Mind. Ignore your Counter Mind." –Andrew Warner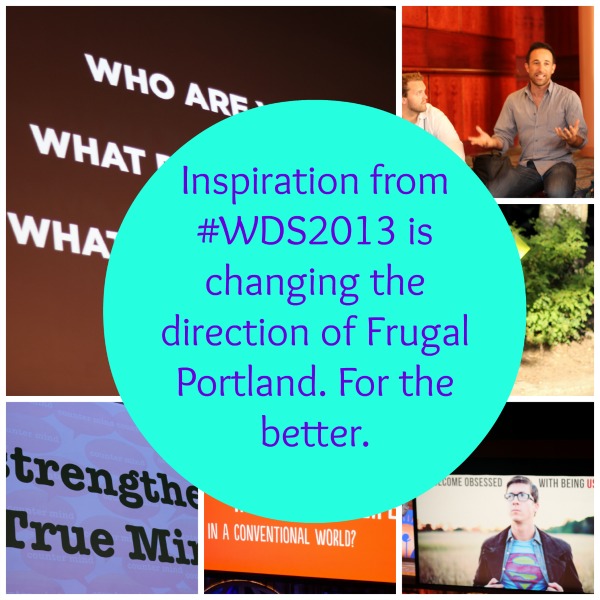 These are the thoughts still rolling around like marbles in my head. The takeaways from #WDS2013 are motivating me, even today. And the combined effect made me take a step back and realize:
The direction of Frugal Portland is changing.
And really, the timing couldn't be better. I wondered in a recent post what life after debt would be like, and now I know.
Frugal Portland is no longer about my spreadsheets. That's funny to me, because they used to be my absolute favorite part of this blog. I had some serious Google spreadsheets going on, and they were absolutely motivating. I climbed my way up, up, up and out! And now? Yawn. I have savings. I'm paying off my mortgage at a normal rate, since right now my sister is living with me, but she is moving out at the end of the year, so her rent money is going toward savings. In the past, any extra money just got thrown on to the diminishing debt pile. Now, yawn, it gets thrown into savings. I'm smart enough to know I can't get ahead of Murphy, and I read enough personal finance blogs to know that I have to trick myself into staying away from lifestyle inflation.
Frugal Portland is about fun things to do on a limited budget in Portland, Oregon. I found myself wanting to talk to all the out-of-town attendees at #WDS2013 and tell them about all the good spots in my fair city. From now on, expect to learn about all kinds of fun, free and semi-free things to do here, as well as some conscious spending.
Frugal Portland is no longer accepting sponsored posts. They've always made me feel a little icky, and since this is my business, I'm going to start acting according to my values. Accepting a sponsored post (really any sponsored post, but especially places that are the antithesis of living simply and within one's means) does not fall within my parameters. I will no longer sell paid links.
Frugal Portland is going to contain more affiliate links. I can promise you this: going forward, the only links you will see are about companies I trust. I'll give you honest feedback about a product I was given. I'll let you know where the good credit card deals are. Will every post have an affiliate link or seven? Goodness gracious, no. This space is going to be more authentic, not simply spammy in a different way.
Frugal Portland is exploring different ways to interact with advertisers. I'd love to highlight businesses in my sidebar. Contact me if you'd like to learn more! I'm thinking a 3-month ad placement plus a write up/interview with you and what your values are.
More Frugal. More Portland.
I thought this was going to end up like Jerry Maguire where I steal the goldfish on my way out, but, alas. Life turns out to be less dramatic than the movies.
Go figure.