I see the signs in the store windows. The displays at the grocery store. At one boutique, my throat catches because I see the phrase "home is where your mom is" screen printed on a pillow.
I am constantly reminded that this year, I don't have plans for Mother's day. For a moment, I'm sad. Deeply sad. I'm tempted to wallow in it. In fact, I could very easily justify a Mother's day pity party. (Doesn't that sound fun?)
But I don't think that's what my mom would have wanted. Plus, wallowing doesn't help anything. And really? It's selfish. Sure, I don't have my mom anymore, but hello! I have my mom's mom and my dad's mom. And Brent's mom! And all my friends who are moms. The friends who are going to be moms. The moms of my friends who are still around. The moms of my friends who are no longer here.
Last year, around this time, I wrote what turned out to be somewhat of a eulogy. She called me from work, crying, saying "YOU SHOULD TELL ME WHEN I SHOULDN'T READ YOUR BLOG AT WORK!" which was very sweet. I'm glad she knew how much I love her.
So, this Mother's day, please, let's focus on the most important women in our lives. The ones who give advice. The ones who listen. The ones with those amazing shoulders for us to cry on.
Now, Onto the Giveaway
Uncommon Goods reached out to me and asked if I wanted to do a giveaway for Mother's Day (here). Sure, why not? They are a really cool website that focuses on made-in-the-USA artsy pieces, many of which are recycled or upcycled. They care about providing their employees a fair wage: even the lowest paid person in their warehouse makes 50% above minimum wage.
Sure, all your mom really needs is a phone call or a hug, but still, wouldn't it be nice to win a gift card so you can give her something nice?
It's a $50 gift card. If you win, you really should get your mom something.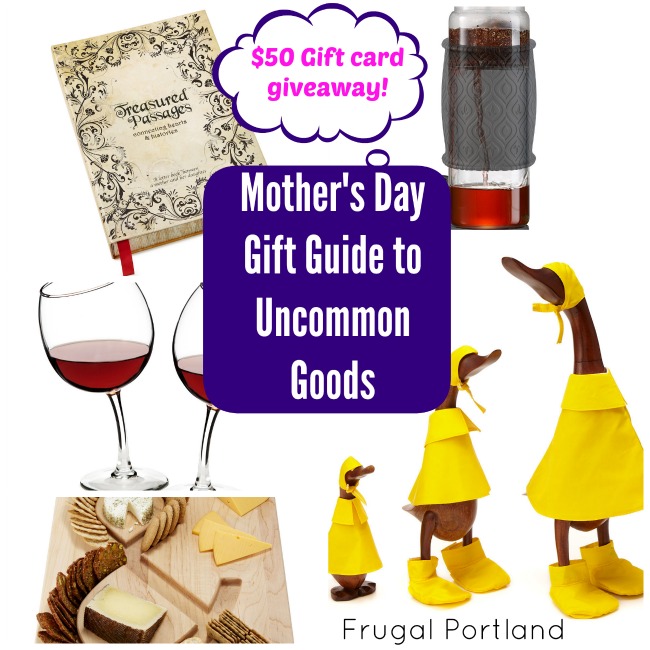 I went to the "Gifts Under $50″ section, but you could easily find what you're looking for (and spend hours just browsing!) in gifts for women (here) or gifts for mom (here).
Perhaps some cheese and crackers? Get it? You put the crackers in the ampersand. I like it.
Or, look at this cute mama duck with a teenage duck and a baby duck. They're wearing raincoats!
Perhaps your mom is a tea drinker. Mine was. Iced tea, mostly, because she was a southerner and they have ice tea in their veins. She drank hot tea, too, so she would have liked this tea to go insulated mug.
Wine glasses like these would have driven my mom absolutely crazy. She'd worry that things were spilling! How fun.
And finally, this is super precious. A kit that holds letters between mothers and their daughters. What mom wouldn't love something like that?
That's my Uncommon Goods Mother's day gift guide. But really, it's a gift card. So get whatever you want.
Enter below: