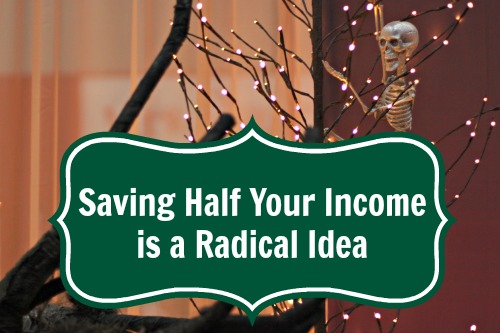 Yesterday, a post of mine on Babble went viral.
In fact, it was seen on the front page of Yahoo! You can read it here. As with everything that gets to the front page of those big sites, there are trolls. I'm okay with trolls, because hey, all press is good press, right?
There are links back to various posts here, so I got a big hit in traffic.
My biggest day ever, really.
And that was really fun! I even didn't mind the trolls. Because, really, they don't know me, so anything they say is a reflection of them, and not me.
Actually, that's true no matter how you spin it. So if someone is being a jerk, remember, it's not about you, it's about them.
Also the trolls are rather amusing. We had a good time laughing yesterday about some of the best ones (my favorite line was, "don't you watch Judge Judy?") and it made me glad that Brent is okay with me writing about our money situation.
The post hit a nerve, though. It's about relationships. It's about saving money. Both are topics that people have a hard time with.
So, I'm going to continue writing about it.
In fact, my friend La Tisha over at Young Finances suggested we call it a movement.
The "Save 50%" movement. I barely had to send an "okay" before she created a logo, and made a button.
As an aside, partner with people who get stuff done, and you'll stay motivated.
Saving half your income is a radical idea.
One that gets people upset.
"But what if you don't make enough money to save half?" people will ask.
"Sure, this is easy for you to do, but you don't have my circumstances," they'll say.
Look, saving half isn't hard. It's not going to be easy, either. But if you think about it, it's brilliant.
Let's use simple math for once.
If Johnny works for 20 years and saves 50%, and Steve works for 40 years and saves 5%, who has more saved?
That's the strategy: live frugally, save half my income (ooh! now it's saving half our combined income) and live on a lot less than we earn.
Join us, won't you? It's simple, really. We're here to encourage each other to save more. Don't get bogged down by half. Is your goal to pay off your debts and have $10,000 in the bank by the end of the year? Great. How can we encourage you?
The point is, you don't have to save $75,000 (which, again, is more than I make myself) this year. But I firmly believe that everyone should be saving more than they are. And if you can pay off debt, you can save more money. I promise. It's amazing how easy it is!