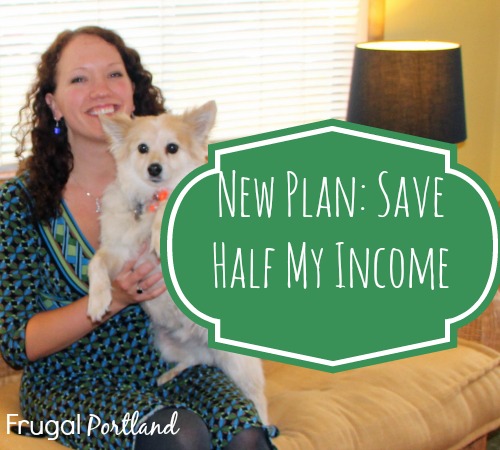 I'm going to save half my paycheck every month. Extreme savings strategy ahead:
The other day, I got caught up in the comments of Financial Samurai. If you don't read his blog, you really should. He's smart, he lays things out in a simple way, and he makes his opinions seem like the only way to go. He's a bit like Ayn Rand (oh, dear, hold on while I get my beret and other pretentious items) in that I want to disagree with him, but the way he writes, it's really hard to argue with the logic he lays out.
He linked to an article he'd written in February, one that I didn't happen to read. And that article (or post, or whatever you want to call it) has been on my mind ever since.
You should go read it, but his basic premise is this: save 50% or more of your take-home salary (after taxes) and you can retire early.
His charts are a little ridiculous, or I'm severely underpaid (a little of both, I bet) but his advice is sound.
I realized that I'm already doing that, really. Only instead of saving, I'm putting about half of my income toward my debts. So, once they are gone, I'll be able to save that same money in many places.
I'm already super frugal (with occasional splurges to keep me on this path for the long haul), so I'm already living on just about half of my take-home pay.
So, once everything is paid off, here's what my bills will look like (provided I don't move):
Rent plus utilities: 825
Car Insurance: 67
Various charitable donations: 100
And that's all. Health insurance is taken out of my paycheck, so, while I do pay it, I do not feel like I'm paying it, if that makes sense.
I'm a commissioned employee, which means that my monthly paycheck varies. But, this month is a good example month, where I took home 2400, after taxes and insurance.
That means, I should be putting $1200 in savings, and $1000 toward bills, leaving me with $208 for the month.
This is doable, provided I allow myself to use savings for travel (sorry, future self, but that will mean you'll have more memories to look back on) and I divide any extra money between current self and future self (one for me, one for me!).
This makes me think I should look into cheaper housing, or find some clever ways to add a few hundred dollars to my take-home pay each month, because as it stands now, I spend more than $200 just on groceries every month.
Does anyone else do this? Do you save a high percentage of your take-home pay? I would love to get to the point where my problem is, "golly gee I have so much money just sitting in my checking and savings accounts, how can I make my money work harder for me?"