This is the third time I've had a chance to review Wantable. Read my other reviews here and here. Note: Wantable provided me with a free box to review and I am an affiliate of their company. All opinions are mine.
Out of the clear blue, an offer appeared in my inbox. Did I want to review Wantable?
Sure, I thought. Why not?
They're a company that lets you take a survey to see what you like, then sends you a "grab bag" of sorts based on your responses.
The first time I did it, I tried their accessories, and my results were mixed. The second time was makeup, which I liked more. I thought about trying their intimates this time, but decided against it since I am, at heart, a prudish old lady, and I knew I'd be talking about my experiences here and I didn't want to mention underthings.
So I chose makeup again, only this time, I knew what I was doing.
Here's my best piece of advice for getting things you want from Wantable: tell them about the things you want, not the things you like.
That may sound like something you don't need to hear, but trust me, it's helpful. I had to tell them I didn't like mascara, which isn't true, but hey, I'm good on mascara for the moment, and I wanted to get other things instead. They won't be offended if you don't like something. They want to send you things that will make you smile.
My Latest Haul
Here's what I got this time: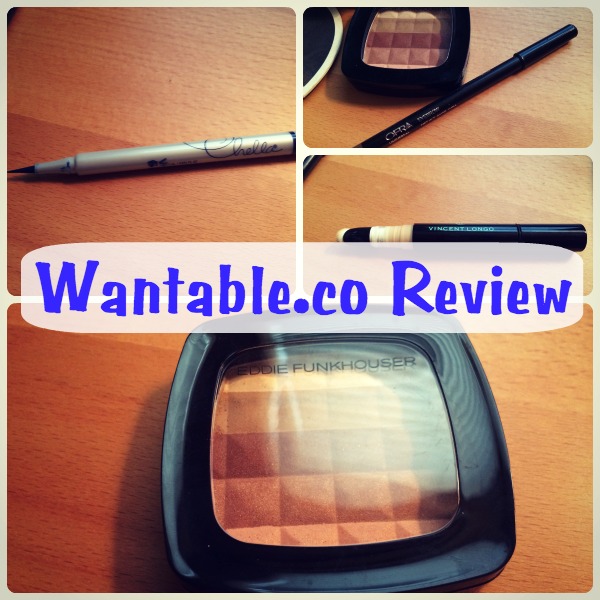 Liquid eyeliner, in blue
Bronzer/highlighter
Eyebrow pencil
Concealer that is remarkably the right shade for my face
Nail polish in a bright, fun color
I liked everything I was sent.
I don't know much about makeup, or brands really, but these seemed high quality, even if I'd never heard of the brands before.
I like the concept behind Wantable. It helps bring me out of my comfort zone and gives me tools to do something different with my makeup.
I've always been the kind of person who likes grab bags. I love the mystery of a brown paper bag. What's in there? So, naturally, Wantable appeals to me.
Price Points
In all three sections, you can subscribe for $36/month or make a one-time purchase for $40. I think if you subscribe, then you should answer the questions about things you like, instead of the things you want shipped to you this month. For me, it's worth the extra $4 to take the survey every time.
Verdict
Wantable is fun! I don't use enough makeup to subscribe monthly (and if you do, wow, you put on a lot of makeup!) but I love the occasional treat. They have a gift option, which I think is the way to go. Do you have anyone in your life who is impossibly hard to shop for? I'm looking at you, Ashley. Send her a gift! You spend $40, she gets to take a survey and get 4-5 pieces of makeup, accessories, or intimates. She'll be happy and feel pampered, and all you had to do was pull out your credit card!
Or treat yourself, if you're good at that. I'm not really very good at treating myself, so that would be hard for me, but you know what? If you reach a milestone in your debt payoff journey, this might be exactly what you want.
Let me know if you try it out! I'd love to know what you got!