Imitation is the highest form of flattery, right? So, "borrowing" an idea from a blogger I highly respect and admire is okay as long as I give credit. J.D. Roth (when he was writing Get Rich Slowly) wrote his personal philosophy in a bullet list on his 43rd birthday. Tonya recently did the same. It's inspiring to read the things others have learned in their lives.
Today is my 31st birthday, and I'd like to do something similar. Now, I'm nowhere near as old as J.D. or Tonya (har har), but I've learned a few things over the years, and have developed strong beliefs.
My Personal Philosophy at Age 31 (subject to change without notice)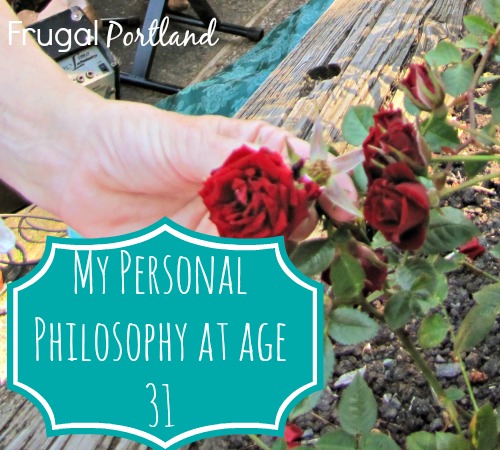 People are inherently good, and there is something to love about every person.
If we start with the above notion, and strive to see the good, lovable part of others, we are immediately much more warm and receptive to them.
Women spend too much time worrying about their bodies. Listen up, ladies. Each and every one of you is beautiful.
Every company or product with the word "skinny" in the title contributes to worry and they should all go out of business. I even saw the word skinny on a bottle of something at the liquor store. Enough! Goodness gracious.
Diet is a noun, not a verb. Eat a balanced diet, go on a vacation. Do not ever go on a diet. That's code for making yourself miserable. See #3.
There is power and beauty in a well-constructed phrase.
Typos, misspellings, and poor grammar diminish that power significantly. Learn to use "were" when you say the word "if" — I know that "was" feels a lot more comfortable, but it's incorrect.
Comparison can rob you of a happy life. It's also a cop-out — I wish I had her life, she has a perfect house and a great husband and adorable kids, isn't fair because you only see what she posts on Facebook, and she probably leaves out the ugly stuff — petty fights with her husband, oatmeal on the ceiling, endless piles of laundry. You can't have "her" life. You have your life.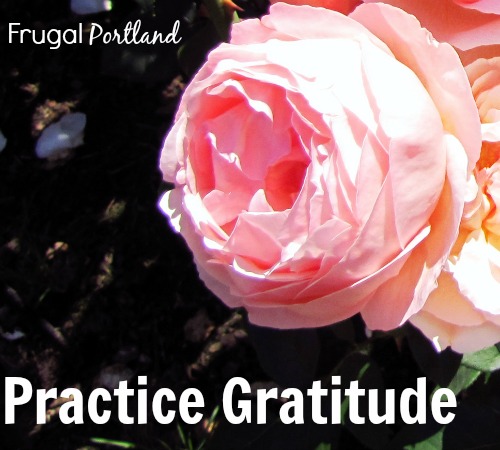 We should all practice gratitude much more often. Our lives are wonderful. I could fill a book about everything I am thankful for. The more time we spend acknowledging and appreciating what we have, the less time we have for complaint. Fill your cup with "thank yous" and throw out all the "if onlys".
None of us need as much stuff as we have. When you rid yourself of clutter, you make room for peace and quiet.
Giving money to someone on the street with no strings attached can change your attitude for the rest of the day.
People show their love in different ways, and until you can understand their language, their ways will grate on you. Listen to their language and respond to them in ways that they understand.
We can only control one thing: our reaction to the things life throws our direction. That's it. We can't make others do things our way, and we can't make anyone feel a certain way. Think about this one for a while. Once you come to terms with it, you will be much more loving toward the people you wished didn't do x, y, or z.
Google has taken away our curiosity, or at least has significantly shortened its duration. "Hmm, I wonder if ________" and bam! before you can even finish the thought, you have an answer. I don't think this is always a good thing. Investigation is part of growth.
Things happen for a reason, even when they don't make sense at the moment. It is so cliché, but so true. We are too small to understand some of the bigger things at play. Also a rolling stone gathers no moss (if you needed another cliché).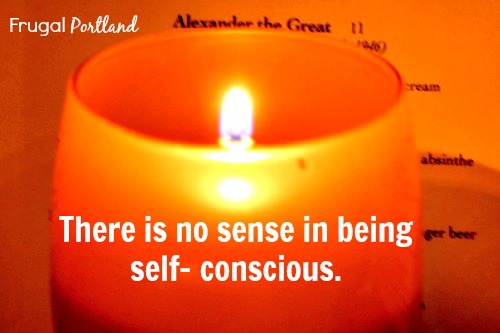 There is no sense in being self-conscious. People think about you and what you're wearing/how you're acting about as much as you think of their behaviors. Which is to say, not at all.
Every vote counts, and voting is the best way to connect with little-d democracy. And the men and women who came before us.
You are what you do, not what you say you do.
Going to college is really important, and really expensive. It's the best way to turn yourself from a know-it-all teenager to an optimistic 22-year-old. Get as many scholarships as possible, and unless you get in to one of the big-name schools, don't spend a million dollars.
Dreams are the subconscious mind trying to tell us something. Listen to them, acknowledge them. Write them down, if you can.
If handling personal finance were as easy as simply earning more than you spend, credit card debt wouldn't exist. Fact is, most of us have to trick ourselves into saving.
Generally speaking, only give advice when you hear the words, "what do you think about ______?" Unsolicited advice is almost never appreciated, but don't let that stop you if your loved ones are hurting themselves or others.
Stay open when meeting new people. People are too complex to put into categories. Try to ask seven questions before asking someone what they do for a living.
Magic is real, and Tinkerbell was probably right when she told us to think happy thoughts. Happy thoughts bring out the magic and make us more receptive to it.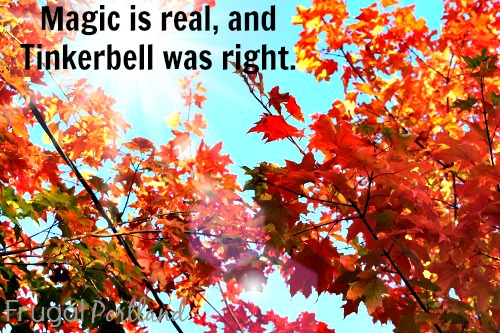 There is beauty in not having "it all figured out" by the time you're a grown up, because it means that some of your story hasn't been written yet. It's like being in the middle of a book, and the part before the plot twist, where you can't figure out what the characters are doing. Get ready for the plot twist. It's going to be fun.
Worry can and will eat away at your happiness. Think about the worst case scenario, then realize that even if that unlikely scenario happens, you'll be fine.
Forever and always, listen to your gut. Sometimes there's an inexplicable nagging feeling, and even if you don't have the words to describe why something makes your gut unhappy, if you listen, and you change direction, you will feel the tension leave your chest and stomach.
Goodness gracious, spend your time saying nice things to people. Don't snap at your coworkers, friends, or family. When you are genuinely nice, you make people feel good. Sarcasm is just the easy way out. Don't use it. You don't want people to think you have an angry edge.
Live in the moment. Life is filled with moments of bliss and happiness. Don't diminish those moments by overthinking. In fact, when possible, underthink the situation and let go.
Work at a job where you can make a difference. Loving your job is a plus, but it can take some time (and a few jobs!). Get good at what you do — understand the systems, figure out new ways to solve old problems, and stay insatiably curious. Try not to focus on quitting time or the weekend — we're not in a hurry to die, are we?
There's no need to apologize — don't use "I'm sorry" as filler, and don't apologize when you should be standing up for yourself. If you tend to start sentences with, "I'm sorry, it's just…" skip those four words and get right to the point. Leading with "I'm sorry" takes away your power, and it also takes away the power of the apology. Say you're sorry when you're sorry.
Love your family, love your friends, love your self. That's what it's really all about, isn't it?
Be well, do good work, and keep in touch. ~Garrison Keillor