So, I know I'm getting naked with my finances over at Consumerism Commentary, but I'm still going to do my own monthly check ins here. That is, after all, one of my main reasons for writing a blog: to hold myself publicly accountable. It's one of my favorite posts every month, and it's one of my favorite spreadsheets. Dork alert*: every time I make a payment, I immediately open my Google doc to adjust whichever payment to its new spot. It's so fun.
I'll link to his site once it's live, but I'll still keep track here.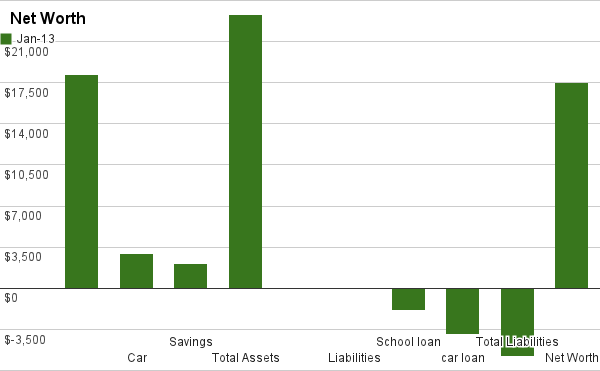 This is the January baseline. My net worth is hovering right around $17.5K. If I could write a note to myself a year ago, or even better, two years ago, it would say: "keep trucking, you'll have positive net worth in 2012 and over $20,000 in net worth sometime in 2013. Don't buy a life insurance policy yet."

New in 2013 is including my savings account in my assets category, because for the first time, it's more than the required minimum for emergencies.
Okay, so that's where we are. Next month, I can do a net worth percentage calculation, but January is my reset point.
Now, I need your advice, you beautiful, wonderful readers. Did I mention that your hair smells nice and is that a new top? You look amazing. I'm getting a slice of commission in my next paycheck. As in, something like 1.5X my regular monthly salary. Last year, I had credit card debt, so the solution was simple. Throw anything extra on that pile! But now, I'm wondering what to do.
If I put it all on my student loan, then I would no longer have any student loan debt which, I have to admit, is a thrilling proposition. But is that really necessary?
In the event that I somehow manage to get a condo in this market (and by the way, how did the market get so competitive all of a sudden?) perhaps I should have easy-to-access cash for things that I don't quite understand. Like earnest money. Isn't all money earnest? Every dollar I've earned certainly is!
Commission is a strange beast, that's for sure. I feel like I should be prepaying my car insurance like a responsible person, or buying a year-long membership to a yoga studio so that I can take advantage of a deal. I'm much better able to negotiate around my  normal expected monthly income. I know, I know, what a problem to have, right?
I think the reason it's a bit challenging is that for all of last year, my finances were simple. Pay off credit cards, max out IRA, pay down student loan. But this potential increasing of liabilities by a jillion percent really throws a wrench into things. I don't really know how my payments are going to shake down. How much more my housing prices will rise. So, I'm hesitant about the whole thing.
But I have to live somewhere, right? And it's worth a little more than my current rent in order to get something that is mine, too. At least that's what I tell myself. But my resolve is nowhere near iron clad.
Any suggestions? Get my savings up? Prepay for something? Pay off my student loan?