Note: I have an affiliate relationship with Personal Capital. If you sign up using my link, they send me a finder's fee. This costs you nothing, and keeps Frugal Portland alive. Thanks!
If you've been reading Frugal Portland for any length of time, you know how much I love Mint. If you're new here, hi! Also, I love Mint. It's the one thing that helped me get my head out of the sand. You can manipulate a spreadsheet all you want (fun fact: for a long time I was completely ignoring my student loans, preferring only to focus on my credit cards, which made for an incomplete picture) but Mint gives it to you straight.
I've found, though, that as my relationship with money becomes healthier (thank goodness) that Mint really hasn't been doing it for me as much anymore. For one thing, I don't budget. I hardly use the goal section. In fact, I think I only have two active goals. The transaction thing is fun, but that's about all I do now — log in and categorize my spending. And they have weird things. Their reminders don't turn off once you've paid something off and closed the account. So, for example, it tells me every month about the due date of my student loan payment, my car payment, and my closed credit card.
Now, that's not to say that Mint is bad. Not at all. But I'm feeling growing pains. So I looked to see if there was something else out there.
Personal Capital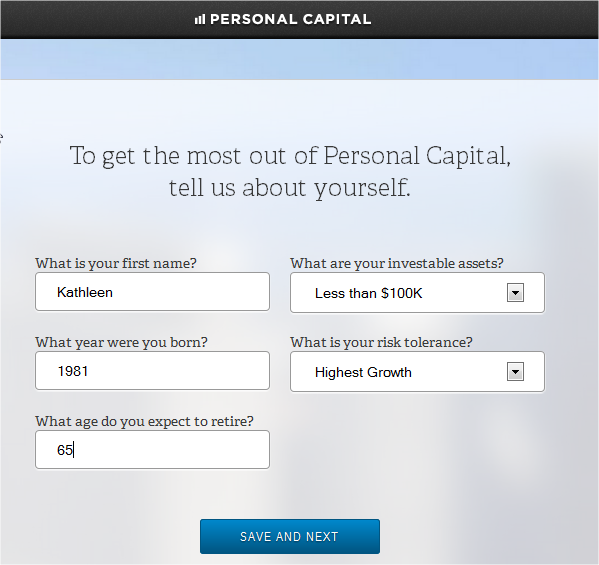 It's a lovely interface, and right off the bat, it's different. How old do you expect to be when you retire?
Oh, back to normal. Enter all your financial things, okay. They had all of my accounts, except one:

Hmm, Personal Capital doesn't have my mortgage company. I don't like that. I mean, I'm going to owe them money for the forseeable future, and without them, the financial picture isn't complete. In fact, if I put extra money toward my mortgage, that will look like a negative through the eyes of Personal Capital. Let's continue.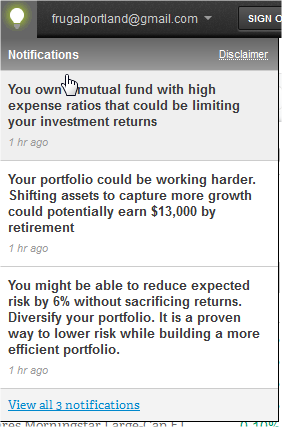 Oh, interesting. Investing advice! They even have this thing called the You index, which calculates the performance of all your cash/savings/investments and compares it against the S&P 500. I'm not ashamed to show you what you probably already know, that Kathleen's You index underperforms the S&P 500: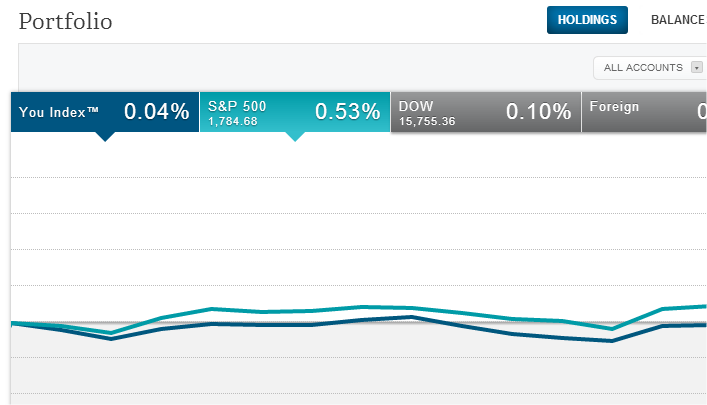 But, you know, not by much!
There's even a link in there called "How to Invest" which is something I will be reading, in depth, in the months to come.
I've been using Personal Capital now for a few months, and I really like it. It tells you when bills are due, it links to all kinds of accounts, and it gives you advice. Best of all, there's no pesky budget section!
Verdict, after a few months: Personal Capital is not a replacement for Mint, but it is a really nice counterpart. Also, it's free, so try it out!