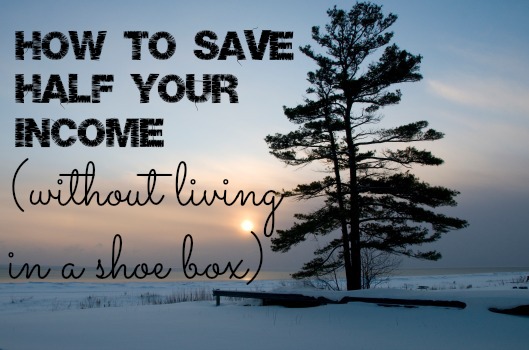 I've mentioned before that saving half my income is part of my financial plan. Lucky for me, Brent is on board with this too, and we have a combined goal of saving $75,000 (which, for the record, is more than I make) in 2014.
I got an email from a reader who wanted to know how, exactly, normal people are supposed to save that much money. With her permission, below is her question (and my answer).
Hello,

I've been following your blog for a little while and enjoying it very much. I am fascinated and at the same time, confounded by the concept of saving half my income – and a little bit ashamed that I don't, too, I think. I used your example last night to total up what I had paid down last year – since that's been a focus of mine – as a way of adding that as 'saved' and while I made good progress (certainly better than previous years!) it was still a little disappointing as a percentage of what I bring home.

When I read other 'saving half my income'.. '$(something huge) savings in the bank' blogs I start to feel a bit helpless that I can ever get there. Admittedly, I have a lot of debt left over from less well-off times and it's taking a long time – years – to pay it down.

Still, I'm wondering if you have any advice about places to look for inspiration or step-by-step advice on doing this? I was listening to a finance show on OPB the other day and a woman caller mentioned 'really knuckling down' with paying off her debts and I thought "But what does that really MEAN? Never going out to eat again? Beans and rice for three years? Living in a shoe box? What?" ;)

Any help would be most appreciated! And sorry if this is rambly. I am inspired but also lost!
How to save half your income
In four "easy but not simple" steps.
First, define "savings"
For me, that's the principle on my mortgage plus my IRA plus money in my savings account. When I had debt, I counted the debt payments as savings because every time you pay toward debt, you're getting a guaranteed return. In fact, if you have debt, don't start saving in another account until the debt is gone. You can build a nest egg more easily if you simplify your life and pay off some bills.
Pay off your most painful debt first
The one that makes you cringe. The one that keeps you up at night. The one that sits like an elephant on your chest when you think about your financial situation. That might be your highest interest card, but it might not be. It might be a debt you're "old enough to know better" to have taken on in the first place. For me, it was my big dumb giant credit card debt, so even when that got transferred to a 0% for 24 month card, it was still my highest priority, until it was gone.
Withhold treats
Do you have multiple sources of debt? Withhold treats until another is paid. I didn't let myself get a haircut until I finished paying my credit card.
Save First
The mentality of saving at the end of the month the leftovers won't get you anywhere near 50% savings. I have my paychecks direct deposited at two different credit unions. 50/50. All extra income goes to my main credit union where the bills come out of, but the rest is deposited in my Twinstar checking account. They have an interest-bearing checking account that earns 2.25%, provided you make 12 transactions a month and don't have more than $15,000 in your account (actually you can have more, but you only earn interest on the first 15,000). I make no more than 12 transactions per month, and I try to only use the debit card on that account for small purchases. The rest of my bills are automated, and come out of my Rivermark account. Rivermark and Twinstar are in the same network, so if push comes to shove, I can head up Hawthorne and ask the nice people at Rivermark to transfer money from Twinstar so I can pay the bills, but I try not to let things get that close to the edge.
Chart Your Own Course
Finally, remember, it's your life. You can do what you want! I definitely do not eat just beans and rice. If you automate things, then you're not faced with the day-to-day decisions of whether to have a cup of coffee or save money. If you save at the onset (or if you stop using credit cards while you're in debt) you'll know if you can afford the coffee.
Be Publicly Accountable: Start a Personal Finance Blog!
I'm serious, the best thing I ever did for my finances was to start blogging. The community here is super supportive, and there are blogs in all levels of finance. You paid off two credit cards last year — you know you can do this! Sometimes writing about it in a public space keeps you more motivated than you would be if nobody's looking.
Join the Save 50% Facebook Group!
We have a Facebook Group where we talk about strategies, milestones, goals, and generally support each other on the path to saving 50%. Join us!