Throughout my writing, I link to places I think are worth mentioning. Many of these are affiliates, which means that if you click on them, I get a small amount of money from the company, saying, "hey thanks for recommending us!" but I cannot be bought. Okay, it's true. Everyone has a price. But mine is higher than these companies pay, and I'm only recommending products I believe in.

Books written by bloggers
Rockstar Blogging. It's a really cool feeling to work hard on your blog and build your numbers and finally realize that you're providing value. One quick way to understand that value is to read her book, then start writing to companies that you'd be willing to work with. They send you a product to review, you review it honestly, then you set up a contest. You help build your own social media numbers and the company's numbers, and one of your readers gets to win something cool. It's good feelings all around. Read my full review here.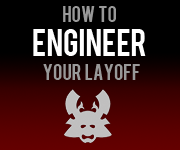 How to Engineer Your Layoff. If you work for a big corporation (and even if you don't), you are leaving money on the table when you quit rather than getting laid off. It's decidedly not sketchy. Sam doesn't tell you that you should start being lazy or doing bad work, which is good. But he highlights some strong strategies for becoming an employee "on the chopping block" and getting paid a year's worth of salary (or more!) in severance in order to leave. Recommended for: people in large companies with HR departments.
Internet tools
Domain.com for registering domains. Not much to say about them except that they have great prices, fast service, and they're local to me. Also they have a good suggestion tool if the URL you want is already taken. Click here for a longer review.
HostGator for all your hosting needs. I have had a lot of luck with them. Outages are rare (twice, maybe?) and are remedied swiftly. They even upgraded me without my asking, and my site got a lot faster! The best part is, their hosting costs as little as $4 a month, and they are always running specials. They are so much better and more reliable than some of the other big-name hosting companies out there.
Dropbox. Please tell me you're already using Dropbox. It's such an amazing tool. It's one of those things that you don't think you need until you have it, then you can't ever remember how you survived just emailing attachments to yourself all the time, or, if you're old enough, putting files on a physical disk. It works like this: you install Dropbox, then you start saving files. Dropbox then copies your whole set of files to the cloud, where you can access them at any time. The beautiful thing is that you can install it on multiple computers, and it looks just like your regular files. It has saved me so many times. I love it.