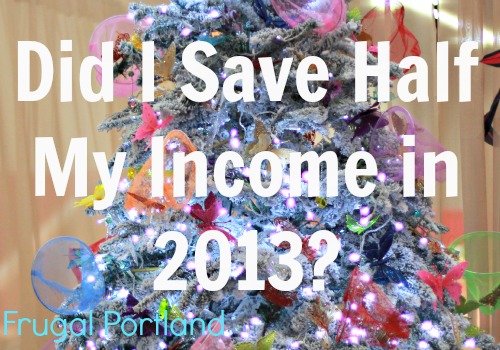 I didn't track my savings last year in quite the same way I'm tracking this year. Also, last year saw a lot of expenses. Most involved the purchase of a new condo.
But, thanks to the good folks at Consumerism Commentary, I did track my net worth, so let's use my spreadsheet from there to see how close I came.
According to my tax documents, I made $50,000 in 2013, which doesn't sound like much, but is nearly $20,000 more than I made in 2012. Take a look at this post to see my progress saving half last year!
What counts?
I'm counting all debt repayment as savings (I wrote about why debt repayment is savings, on Babble). Plus mortgage principal, plus IRA, plus savings.
Here's how it all breaks down:

Yikes. I fell short of my goal, by a long shot. Again, insert excuses here. I bought a condo. I had to buy things to put in the condo, like a washer/dryer, and a new living room set. Were these all necessary expenditures?
Nope. But after four years of austerity, I wanted to relax a little (and I certainly didn't want to go to the laundromat!). Perhaps I treated myself a bit too much. But you know what? I don't have any regrets. And I'm not going to beat myself up.
That's the point, really. Take a look at your past numbers without judgement. Change your habits. Move toward the future.
This is a new year! Brent and I are tracking all our spending (it's not a budget! it's not a budget!) and we have a nifty spreadsheet that shows how much we've saved, and how close we are to our goal of saving half. I'll share it with you when the month is over.
Saving money, for some reason, isn't nearly as satisfying as paying off debt, but it is more responsible. I love that I'm going to be the kind of person who pays cash for a car, since it really wasn't that long ago that I was the person who couldn't pay for a car repair without the help of a credit card.
The Ideology of Saving
I used to treat windfalls like blank checks. "Wow, extra money! I could use a new…" and whoosh, there it would go. But now? I hardly notice windfalls. If somehow I make an extra $1,000 in a month, my spending patterns do not change.
This is a key difference.
When I tell people I'm saving half, or that Brent and I together are saving half, they ask what for. I try not to be a complete jerk when my friends ask questions like that, so I refrain from saying "for life" — instead, I tell them that in the next 5-10 years, we want to buy our forever home, and we want our mortgage payment to change as little as possible.
They understand that.
But saving for the sake of saving makes a person miserly, simply because saving money isn't the norm.