I'm engaged! I alluded to it recently on Babble (I'm still getting used to calling Brent my fiancé in print, but it's starting to feel more comfortable now) but I wanted to share the story here.
Tuesday, January 7th
I went home early from work because I thought I was going to go to a snack food focus group (turns out, I went to the focus group an entire week early!) and since I'd gotten my dates wrong, I still wasn't interested in going back to work. I mean, I'd cleared my desk off and everything! So I went to run a few errands, then I went home and started cleaning the house.
I texted Brent to tell him I was home, and he said that he'd be home early too. Awesome!
He came home around 4:30 and said, "How was your day? Are you in a good mood?" Which is an odd way to lead, for sure. But yes, I'm in a great mood! I've been home since two and have just been nesting and cleaning and doing laundry.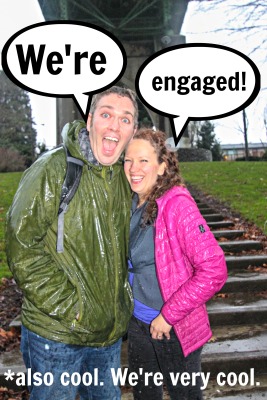 "Great, then I have a present for you."
"Oh!" I replied, "I have a present for you too – I'm doing laundry!"
"Mine's better," he said.
I closed my eyes really tightly and held my hands out.
He put the present in my hands… it was a book! A hardcover book. I opened my eyes.
It was a compilation of every email he'd written during the time we've known each other. He started writing to me on Fridays, I think, kind of as a way to balance out the information imbalance (he knew about Frugal Portland early on) and kind of as a way to get me to understand him better. He linked to songs, and told a story. These became my "Friday Mixtape" emails, and they were awesome. I'd thought about printing them too, because they would just rot in an email inbox.
"The only part you haven't read is the prologue. Read that, now," he said. "Aloud."
OKaaaaaaaay. I still wasn't suspicious. I mean, it was a Tuesday afternoon, and we were sitting on the couch! Sure, he'd never lead with "are you in a good mood" and he'd never once asked me to read something aloud, but he's a weird dude, so I sat next to him and read aloud.
Then, I got to the last paragraph, where he started talking about how he was going to "do this" … now, at this point, I was either willfully ignorant or just plain dumb, because, really, what "this" was he about to do?
The last line in the prologue was "Will you marry me?"
I turned and hugged him, and said, "you're not hugging me with both arms! What the heck?"
Then I pulled away, and he had the ring, in a box, in his shaking hand.
"Is that for me?" I squealed.
We hugged and kissed and cried. Then he said, "I better text your sister to let her off the hook. See, I told her earlier today that I was probably going to ask you today, but it depended on your mood. If you were grumpy I didn't want to ask."
I said, no way are you going to tell her! So I called. We were going over to her house for dinner later that night. She tried to play it cool. "What time are you coming over for dinner?" she asked.
I said, "well… I have news…"
She said, "COME OVER RIGHT NOW I HAVE CHAMPAGNE!"
So we went to her house. Drank champagne. Called the family. Texted friends. Ate taco salad. Talked about colors.
On the way home we talked about when we'd like to get married. This year, definitely. Maybe in the fall? We started looking up ballroom rentals and whatnot, but it didn't feel right.
I said, "you know what would be more fun? Just a barbecue in a park somewhere."
We looked online at Portland Parks, and they had some very strongly-worded language about first come, first served, in-person trumps phone calls, etc., etc. Registration opened the 2nd, and it was already the 7th.
"You should probably call first thing in the morning," Brent said.
And I did. Just like that, 14 hours after getting engaged, we had a venue and a date.
We're getting married in September.
It's going to be frugal, local, and Portland-oriented. I'm not a traditional bride, so I don't care about a lot of the things the wedding industry wants me to care about.
And I'm okay with that. The point is, I've found my partner, and I'm going to be married to him forever and always.
The end/the beginning.