This week, I'm thinking about how thankful I am.
Yes, I am sad. Thanksgiving was my mom's favorite holiday. She just loved it.
One of her love languages was cooking for people. Making everyone delicious food.
And she really loved to make more food than was necessary. She adored fussing in the kitchen.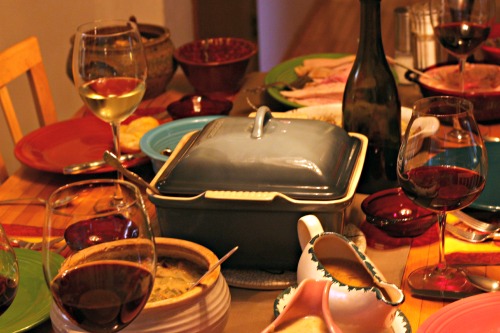 Every year, she'd make:
A turkey with a butter sweater (actually cheesecloth with two sticks of butter melted into it)
Almond stuffing (the recipe was from a cookbook that came with her very first microwave)
Green bean casserole
Fruit salad
Cranberry sauce
My sister has been in charge of the mashed potatoes for years, and for a while, I was on "bread duty" until the year I used old yeast and the dinner rolls came out like hockey pucks that the crows were hesitant to eat. We moved on to Crescent rolls after that, and everyone was happier.
She loved the tradition, but she also loved to branch out.
To try new things.
To experiment.
One year, she tried to experiment with the green bean casserole. "I improved it, you guys! I used all fresh ingredients instead of the nasty canned stuff!"
We were not impressed.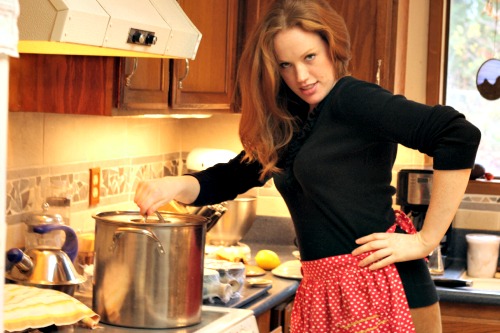 So she eased into the new things. We had our non-negotiables, but then we were allowed to experiment.
Mom was a cooking magazine fanatic, and she loved the November issues most of all.
I always tried to drive to Olympia before Wednesday to miss the horrendous traffic, and as soon as I got comfortable, she'd have me sit next to her and look through the recipes she'd found in Bon Appetit, Food and Wine, and the other 81 magazines.
"Should we try this?" she'd ask. "Oh! Actually, I was thinking of a combination of this recipe and that recipe, what do you think?"
We'd volley back and forth, narrowing the recipe pile from 20+ to about five.
Then she'd send me to the grocery store.
The night before Thanksgiving was pie night, and I'd make the pies. Even though there were only four of us at most Thanksgiving dinners, we'd have at least two pies.
Then, early on Thursday morning, the ritual would begin.
We'd put that 17-pound (yes, I know, excessive!) turkey in the oven and set the timer.
Then we'd divide and conquer. And by that I mean, we'd split recipes, steal ingredients, and she'd put the knife away before I was finished using it.
My dad and sister could hear us prattling on, and they'd shake their heads.
The Macy's Thanksgiving Day Parade would be turned on, largely in the background. But the volume would be up so we wouldn't miss the really good floats (like Snoopy).
And so it would go. Hours and hours. The dishwasher would run, giving us a break in the middle of the day.
In the last few years, she was in too much pain to stand in the kitchen all day.
So she'd armchair cook. Basically what I envision a director to do on a movie set.
"Kathleen!" she'd say, "did you baste the turkey and then did you reset the timer so you can baste it again?"
"Have you started the stuffing?"
"What about the potatoes?"
"Can you set the table?"
"What time are we eating?"
"You should open that wine, it's really special! Your dad and I picked it out especially for today!"
Then, we'd eat. Our little table was packed.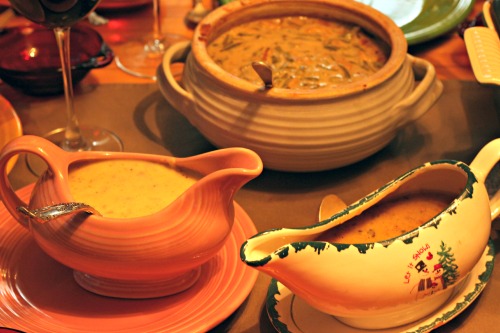 Filled to the brim.
We'd go around the table talking about the things we were thankful for.
Family always topped the list.
This year, I'm thankful for all the years I had with her. I'm thankful for the year when I was a vegetarian that we cooked a Tofurkey. I'm thankful we only cooked Tofurkey that one year.
I'm thankful for the quality time spent in the kitchen.
I'm thankful I didn't live too far away from her to come to Thanksgiving most of the time.
This is the first year I am doing this holiday without her, and it seems unfair. I mean, nobody I've ever met likes this holiday the way my mom did. I'm celebrating with Brent's family, in Arizona, and his mom offered to make something special, something Mom would have liked, because she knows that it'll be hard for me.
What do I want? I want to stand in the kitchen until my shins hurt.
I want to put the cutting board out with the knife and leave the kitchen to go get some onions, only to find both the cutting board and the knife put away.
Instead, I'll offer to help. To do what I can.
It's time for new traditions, I suppose, and I'm thankful for those too.
I'm thankful that I miss her as much as I do. Because that's what love is, right?

Check Out Other Participating Bloggers:
My Life Well Loved / Empowered Dollar / School of Moxie / FrugalBeautiful / Through Heather's Looking Glass